Jewel Cases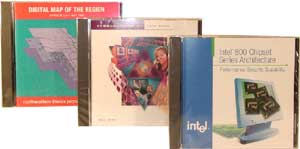 The jewel case is one of the most popular methods for packaging CDs and DVD-ROMs. In most cases jewel case packaging included the printing of a front liner booklet (frontliner template) and an inlay card (inlay card template).
There are jewel case configurations to hold between 1 and 6 discs.
| | |
| --- | --- |
| Double Jewel Case | |
| | |
| Front View | Open View |
The double jewel case shown above is the same outer dimensions as a standard jewel case. It uses that same printing templates (frontliner template , inlay card template). The tray is hinged and swings open to allow the user to gain access to the second disc which is inserted on the back side of the tray.
| | |
| --- | --- |
| 4 CD Jewel Case | 6 CD Jewel Case |
| | |
| Open View | Open View |
The jewel cases shown above are twice the thickness of a standard jewel case. This style case can be configured to hold 3,4,5, or 6 discs.
If you need greater disc storage capacity, or a more durable case, try the CD Multipak.
Please contact us if we may be of any assistance(service@dvdreplication.com) or use the packaging estimate form for specific pricing information.
All orders are subject to our Standard Terms and Conditions.