Paper Disc Sleeves / Envelopes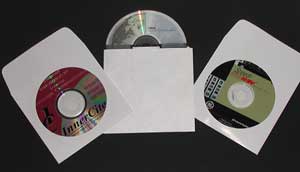 Paper, Tyvek, Card Board Disc Envelopes.
The lowest cost CD & DVD packaging solution is the paper windowed envelope.
Windowed disc envelopes made of paper, tyvek, and 8pt cardboard are available. Other disc envelope options include; no window, no flap, or colored paper. Minimum order quantities apply.
Custom printing of disc envelopes is also available.
Please contact us if we may be of any assistance (service@dvdreplication.com) or use the packaging estimate form for specific pricing information.
All orders are subject to our Standard Terms and Conditions.